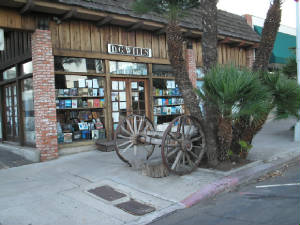 _______________________
John M. Ridland and Peter V. Czipott
will read from their translations
of Holocaust poet
Miklos Radnoti's
ALL THAT STILL MATTERS AT ALL
Saturday, March 7,7pm
Miklós Radnóti (1909-1944), whose work beautifully combines colloquial modernism with Virgilian classicism, is best known internationally as one of the great poets of the Holocaust: his final, harrowing poems were recovered from a notebook found on his body upon exhumation from a mass grave in 1946. But while he is certainly one of the key literary chroniclers of the Holocaust, he is also much more than that. All That Still Matters at All spans his entire output, from his carefree early love lyrics to the increasingly urgent poems written as the clouds of fascism and war descended upon Europe to the poems composed during forced labor and the death march that finally took his life. All of his work, however, was inspired by his wife, muse and literary executor, Fanni Gyarmati Radnóti, who enthusiastically endorsed these new translations by Ridland and Czipott prior to her death in 2014 at the age of 101.
Professor Emeritus John M. Ridland taught writing and literature in the English Department and the College of Creative Studies at the University of California, Santa Barbara, for over forty years. His poems have appeared in many journals, including Poetry, The Atlantic, Harper's, The Hudson Review, The Dark Horse, Spectrum, The Nation, New Zealand Books, Quadrant, River Styx, Solo, Askew, Parnassus, and The Hungarian Quarterly. His published books include: Fires of Home, Ode on Violence, In the Shadowless Light, Elegy for My Aunt, Palms, and Life with Unkie, as well as his translation with Peter Czipott of Sandor Marai's poetry, The Withering World.
Physicist Peter V. Czipott has published a number of translations from the Hungarian in literary journals the world over, including the poems of Sándor Márai, Miklós Radnóti, Sándor Reményik, György Faludy and Zoltán Zelk. In 2010, he received the Bálint Balassi Memorial Medallion for
____________________________
Thirty-Sixth Annual
St. Patrick's Day
Open Reading
of Irish Poetry and Prose:
Members of the public are invited to read
selections from
James Joyce, William Butler Yeats, Samuel Beckett,
Oscar Fingal O'Flaherty Wills Wilde,
George Bernard Shaw,
Sean O'Casey, Edmund Burke, etc.,
on Tuesday, 17 March 2015,
from 7 P.M. until it ends.

Messrs. Guinness and Harp will officiate the proceedings.



_______________________
New York poet
Joseph Fasano
reads from his book
INHERITANCE
(nominated for the Pulitzer Prize and
the James Laughlin Award)

Saturday, March 21, 7PM
Joseph Fasano was born and raised in New York State's Hudson River Valley. He earned a BA in philosophy from Harvard University in 2005 and an MFA from Columbia University in 2008. His poems have appeared in The Yale Review, The Times Literary Supplement, Tin House, FIELD, The Southern Review, and Boston Review, among other journals. His poem "Mahler in New York" won the 2008 RATTLE Poetry Prize, and he has been a finalist for the Missouri Review Editors' Prize, the Times Literary Supplement Poetry Competition, the Kinereth Gensler Award from Alice James Books, and the Autumn House Press Poetry Prize. He has also been a semifinalist for the "Discovery"/Boston Review Poetry Contest and the Mid-American Review James Wright Poetry Award, as well as a Pushcart Prize nominee. Joseph Fasano has taught at SUNY Purchase, and currently teaches literature and writing at Manhattanville College and Columbia University.



_______________________
Poet
Elmaz Abinader
will read from her new book
THIS HOUSE,
MY BONES
Wednesday, March 25 at
"The conversation with history is witnessed by the earth and etches the collisions on its body—every rock and road, riverbed and meadow hold the marks of migrations, escapes, exiles, alienations, aging and evolutions. In This House, My Bones, the body and the earth exchange their positions and perspectives. The memories of war are on the skin as well as on the mesa, the exile is written in dust and cells. Through mining experience of occupation, dislocation, and aging, I created poems where the body and the earth examine their bruises." ~Elmaz Abinader
"In poems of grace and a searing fire, Elmaz Abinader negotiates love, yearning, hope, memory, resistance, injustice and death and weaves an uneasy but authentic hope that illuminates the path to a true redemption. A stunning collection." Chris Abani, author of Sanctificum and The Secret History of Las Vegas.
Elmaz Abinader is a poet, memoirist, playwright and novelist. Her first memoir, Children of the Roojme, a Family's Journey from Lebanon, chronicles three generations of immigrants battling dislocation and tradition. The poetry collection, In the Country of My Dream won the 2000 PEN Oakland Josephine Miles Poetry award. She was also awarded a Goldies Award for Literature, as well as two Drammies, Oregon's Drama award, for her three-act one-woman show, Country of Origin. Elmaz most recently performed Country of Origin at the Kennedy Center and has toured several countries with this play and two others: Ramadan Moon and 32 Mohammeds. Elmaz's work has been widely anthologized, most recently in The New Anthology of American Poetry, Vol. 3 and The Colors of Nature. Elmaz has been a Fulbright Senior Fellow to Egypt, taught for the Palestine Writing Workshop and a resident at the El Gouna Writing Residency on the Red Sea. Elmaz is one of the founders of the Voices of Our Nations Arts Foundation, (VONA/Voices), now in its 15th year providing workshops for writers of color. She is also a creative writing professor at Mills College.
Previous Events at D.G.Wills Books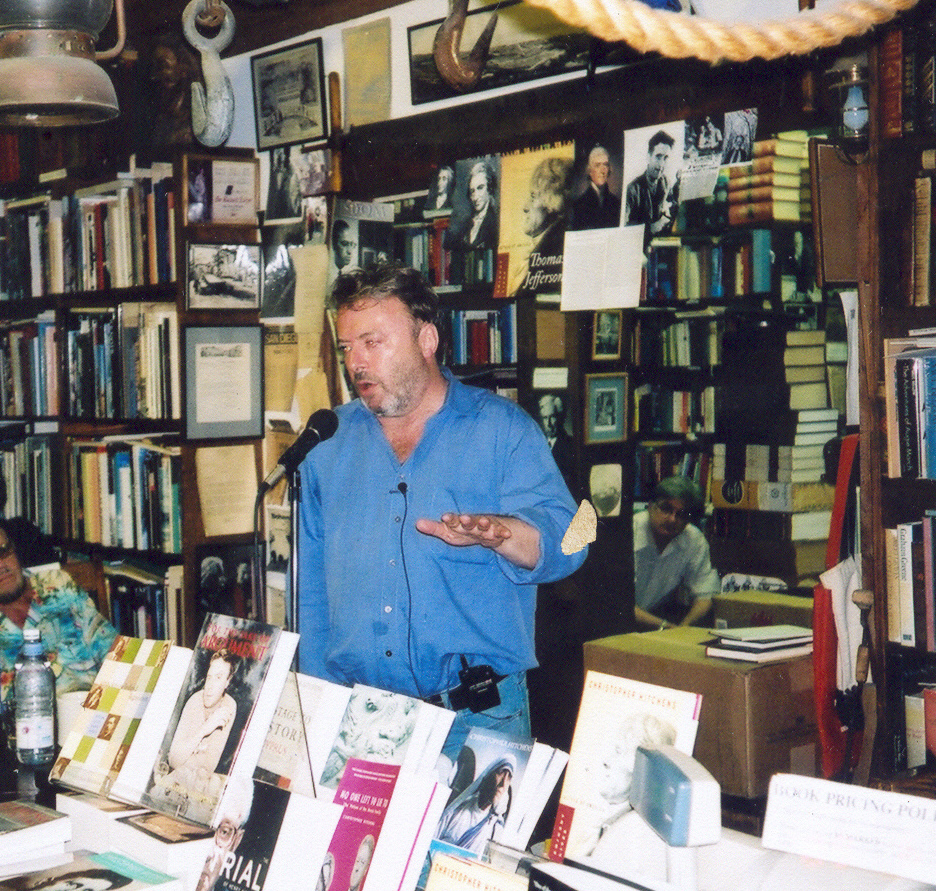 Christopher Hitchens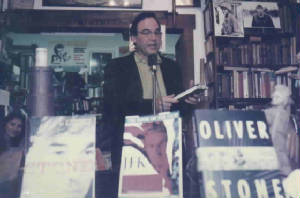 Director Oliver Stone
Historian and Churchill biographer Sir Martin Gilbert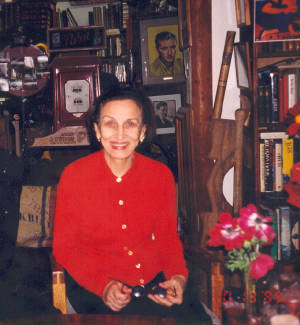 Francoise Gilot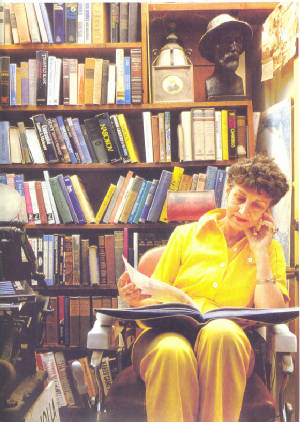 Vogue magazine photo of Francoise Gilot at the original store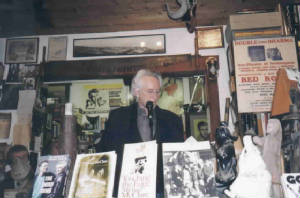 Michael McClure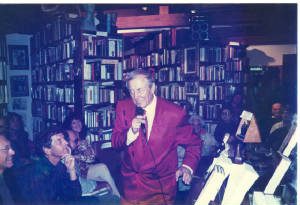 Yevgeny Yevtushenko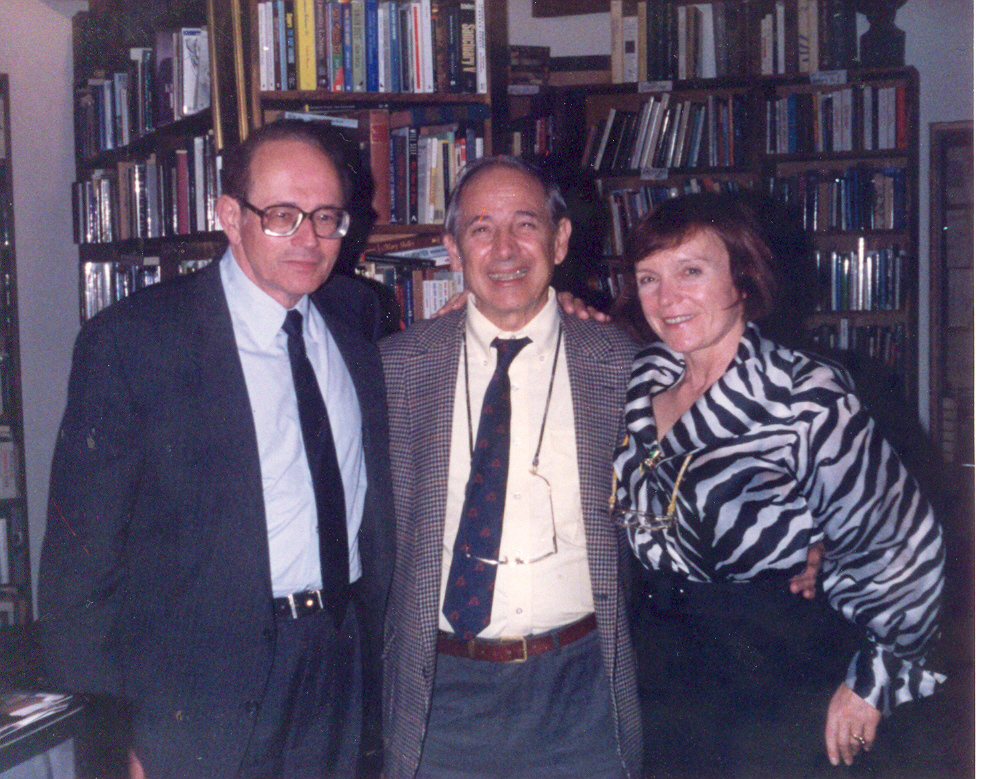 Nobel Laureate Gerald Edelman, Director of the Neurosciences Institute, with U.C. Berkeley philosopher John Searle with Mrs. Searle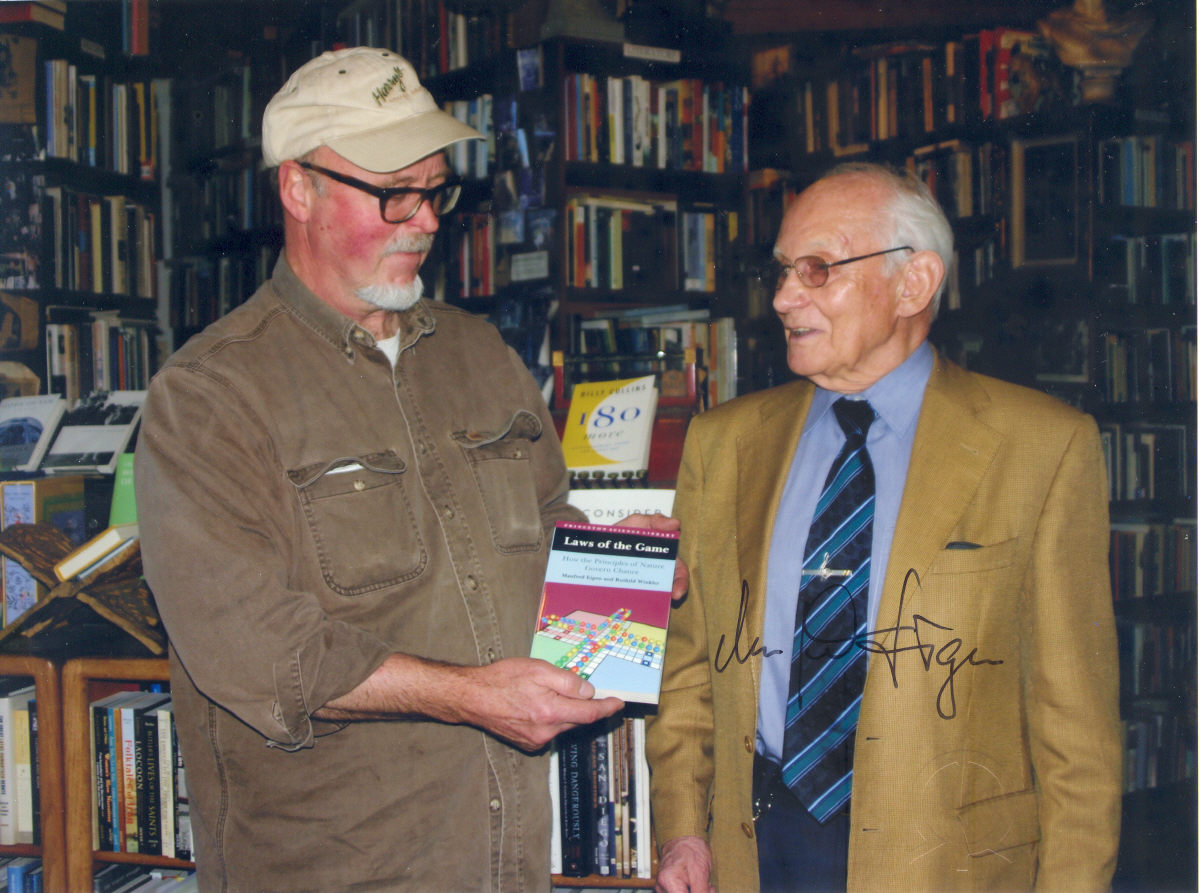 Nobel Laureate Manfred Eigen
Quincy Troupe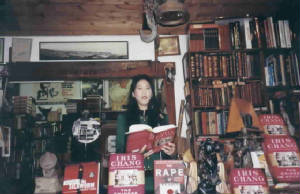 Iris Chang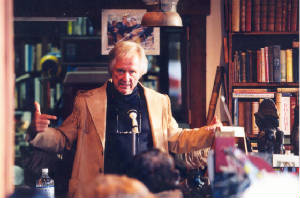 Gerry Spence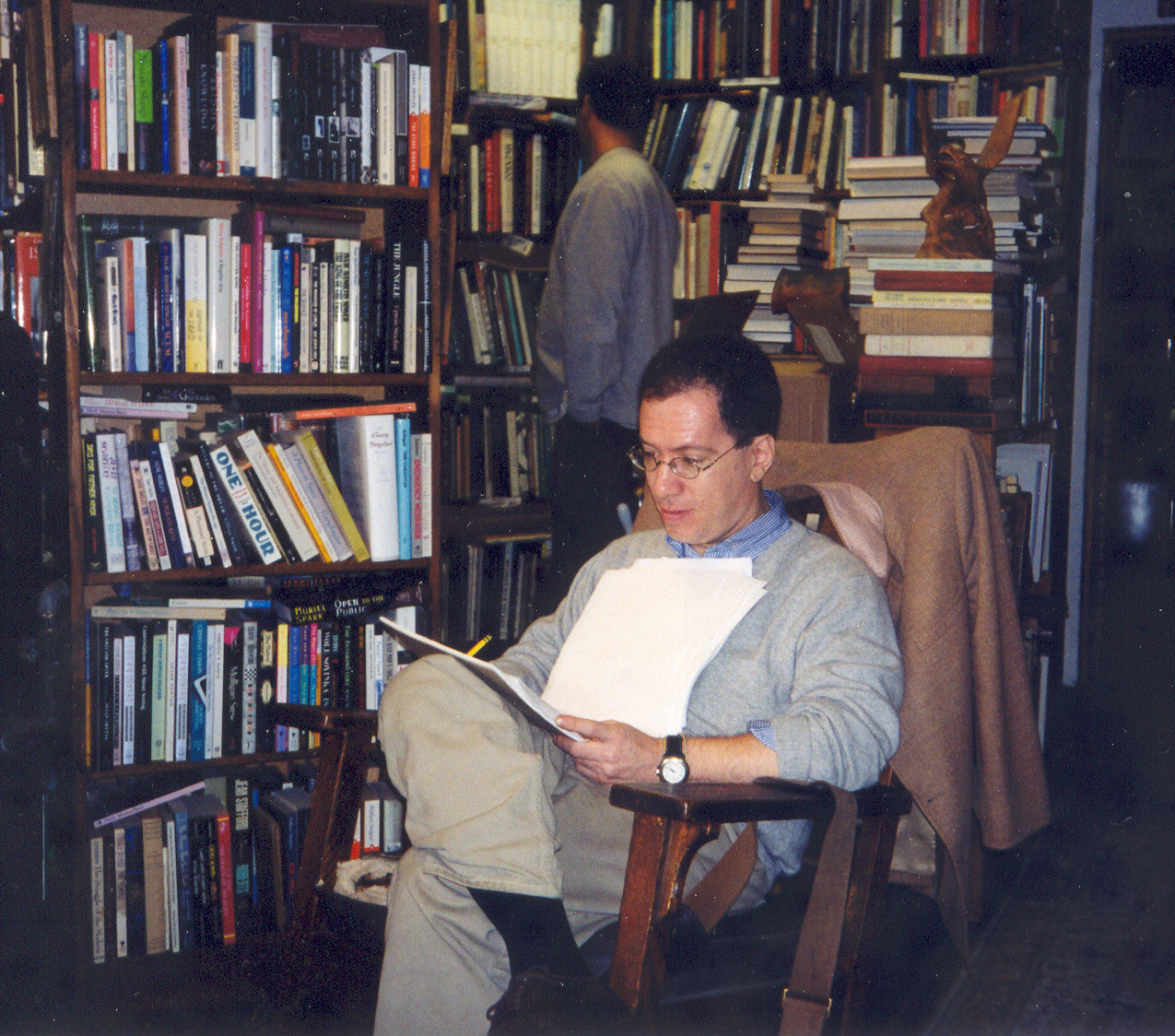 Noted editor Robert Weil, editing a Patricia Highsmith manuscript for W.W. Norton & Co.