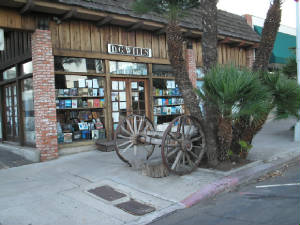 -------------------------------------
Author and professor
John C. Hampsey
will read from his new novelistic memoir
KAUFMAN'S HILL
Friday, February 20 at 7PM
Kaufman's Hill opens with a prosaic neighborhood scene: The author and some other young boys are playing by the creek, one of their usual stomping grounds. But it soon becomes clear that much more is going on; the boy-narrator is struggling to find his way in a middle-class Catholic neighborhood dominated by a family of bullies, the Creelys, who often terrify him. It's the Pittsburgh of the early and mid-1960s, a threshold time just before the counter-culture arrives, and a time when suburban society begins to encroach on Kaufman's Hill, the boy's sanctuary and the setting of many of his adventures. As the hill and the 1950s vanish into the twilight, so does the world of the narrator's boyhood. Kaufman's Hill is lyrical and profound. It captures the dynamics of the lost world of boyhood in a way no one has before. The late, great historian Howard Zinn called it "the best book written on American boyhood in decades." Novelist Tim O'Brien claims that "Kaufman's Hill is among the most touching, sensitive, and spellbinding memoirs I've encountered in many years. Beautifully and exactly written, this book will surely reach into the hearts of its readers. I was deeply moved."
Prof. John C. Hampsey teaches Romantic and Classical Literature at Cal Poly, San Luis Obispo, where he won the University Distinguished Teaching Award. Previously, he taught at Boston University and MIT. He received his BA from Holy Cross College and his PhD from Boston College. Hampsey's book Paranoia and Contentment: A Personal Essay on Western Thought was the first book to view paranoia in a positive light; and won enthusiastic endorsements from fellow writers Lawrence Ferlinghetti and Tim O'Brien. More than thirty of Hampsey's stories and essays have appeared in such places as The Gettysburg Review, The Midwest Quarterly, Antioch Review, The Alaska Quarterly, The Boston Globe, Arizona Quarterly, and the European Romantic Review
__________________________
Renowned poet
DAVID ANTIN
will read from and discuss his new book
HOW LONG IS THE PRESENT:
SELECTED TALK POEMS OF DAVID ANTIN
Edited by Stephen Fredman
Saturday, Februrary 21, 7pm
Poet, performance artist, and critic David Antin invented the "talk poem." He insists that his poems be oral and created in front of a live audience, in a specific time and place, with the transcription of the performance adjusted for print by presenting it not in prose but in clumps of words without justified margins or punctuation, peppered with white spaces that indicate pauses. In this book, editor Stephen Fredman provides a critical introduction to a selection of talk poems from three out-of-print collections, accompanied by a new interview with the author. As Fredman points out, Antin's work is a form of conceptual writing that has influenced generations of experimental poets and prose writers.
David Antin is Professor Emeritus in the Department of Visual Arts at the University of California, San Diego. A poet, critic, and performance artist, he is the author of over a dozen books of poetry, including Talking, Talking at the Boundaries, Tuning, What It Means to Be Avant-Garde, i never knew what time it was, and John Cage Uncaged Is Still Cagey, and Radical Coherency. He received the PEN Los Angeles Award for Poetry in 1984 and has received fellowships from both the Guggenheim Foundation and the National Endowment for the Arts. For the past forty years, whether spoken under the guise of performance artist or poet, cultural explorer or literary critic, Antin's innovative observations have helped us to better understand everything from Pop to Postmodernism. Antin's first serious assessment of Andy Warhol published in a major art journal, his provocative take on Clement Greenberg's theory of Modernism, as well as frontline interventions in present debates on poetics and fugitive pieces from the '60s and '70s, represent a gold mine for art and literary historians of the period. From John Cage to Allan Kaprow, Mark Rothko to Ludwig Wittgenstein, consummate trailblazer David Antin takes the reader on an idiosyncratic, personal journey through twentieth-century culture with his trademark antiformalist panache.
Stephen Fredman is a professor of English literature and American studies at the University of Notre Dame. His most recent book is Contextual Practice: Assemblage and the Erotic in Postwar Poetry and Art.
------------------------
Pulitzer Prize Winning Poet
RAE ARMANTROUT
reads from her new book
ITSELF
Saturday, 28 February, 7PM
What do "self" and "it" have in common? In Rae Armantrout's new poems, there is no inert substance. Self and it (word and particle) are ritual and rigmarole, song-and-dance and long distance call into whatever dark matter might exist. How could a self not be selfish? Armantrout accesses the strangeness of everyday occurrence with wit, sensuality, and an eye alert to underlying trauma, as in the poem "Price Points" where a man conducts an imaginary orchestra but "gets no points for originality." In their investigations of the cosmically mundane, Armantrout's poems use an extraordinary microscopic lens—even when she's glancing backwards from the outer reaches of space.
Rae Armantrout, 2008 Guggenheim Fellow in Poetry, is a native Californian whose poems are masterful contradictions; according to Robert Creeley, her poems have "a quiet and enabling signature." He adds, "I don't think there's another poet writing who is so consummate in authority and yet so generous to her readers and company alike." Her poems are telegenically "regional," filled with bungalows, newscasters and swimming pools, yet they ring with an immaterial clarity that quietly subsumes her readers and listeners in a radical and eerily funny vision. Armantrout studied with Denise Levertov, and was at the center of the first generation of Language Poets, the group in the US most often credited with introducing poetry to postmodernity. Since then she has forged a growing international reputation and whose works include Versed, winner of the Pulitzer Prize for Poetry in 2010; Next Life; Up to Speed; and Veil: New and Selected Poems; as well as countless poems anthologized in Best American Poetry 2002, 2005, 2007, and 2009; American Hybrid; Poems of the Women's Movement; The Oxford Book of American Poetry; and Postmodern American Poetry. She directed the New Writing Series at UCSD for nearly two decades, and co-organized the Page Mother's Conference in 1999.
_______________________
John M. Ridland and Peter V. Czipott
will read from their translations
of Holocaust poet
Miklos Radnoti's
ALL THAT STILL MATTERS AT ALL
Saturday, March 7,7pm
Miklós Radnóti (1909-1944), whose work beautifully combines colloquial modernism with Virgilian classicism, is best known internationally as one of the great poets of the Holocaust: his final, harrowing poems were recovered from a notebook found on his body upon exhumation from a mass grave in 1946. But while he is certainly one of the key literary chroniclers of the Holocaust, he is also much more than that. All That Still Matters at All spans his entire output, from his carefree early love lyrics to the increasingly urgent poems written as the clouds of fascism and war descended upon Europe to the poems composed during forced labor and the death march that finally took his life. All of his work, however, was inspired by his wife, muse and literary executor, Fanni Gyarmati Radnóti, who enthusiastically endorsed these new translations by Ridland and Czipott prior to her death in 2014 at the age of 101.
Professor Emeritus John M. Ridland taught writing and literature in the English Department and the College of Creative Studies at the University of California, Santa Barbara, for over forty years. His poems have appeared in many journals, including Poetry, The Atlantic, Harper's, The Hudson Review, The Dark Horse, Spectrum, The Nation, New Zealand Books, Quadrant, River Styx, Solo, Askew, Parnassus, and The Hungarian Quarterly. His published books include: Fires of Home, Ode on Violence, In the Shadowless Light, Elegy for My Aunt, Palms, and Life with Unkie, as well as his translation with Peter Czipott of Sandor Marai's poetry, The Withering World.
Physicist Peter V. Czipott has published a number of translations from the Hungarian in literary journals the world over, including the poems of Sándor Márai, Miklós Radnóti, Sándor Reményik, György Faludy and Zoltán Zelk. In 2010, he received the Bálint Balassi Memorial Medallion for
_______________________
Poet
Elmaz Abinader
will read from her new book
THIS HOUSE,
MY BONES
Wednesday, March 25 at
"The conversation with history is witnessed by the earth and etches the collisions on its body—every rock and road, riverbed and meadow hold the marks of migrations, escapes, exiles, alienations, aging and evolutions. In This House, My Bones, the body and the earth exchange their positions and perspectives. The memories of war are on the skin as well as on the mesa, the exile is written in dust and cells. Through mining experience of occupation, dislocation, and aging, I created poems where the body and the earth examine their bruises." ~Elmaz Abinader
"In poems of grace and a searing fire, Elmaz Abinader negotiates love, yearning, hope, memory, resistance, injustice and death and weaves an uneasy but authentic hope that illuminates the path to a true redemption. A stunning collection." Chris Abani, author of Sanctificum and The Secret History of Las Vegas.
Elmaz Abinader is a poet, memoirist, playwright and novelist. Her first memoir, Children of the Roojme, a Family's Journey from Lebanon, chronicles three generations of immigrants battling dislocation and tradition. The poetry collection, In the Country of My Dream won the 2000 PEN Oakland Josephine Miles Poetry award. She was also awarded a Goldies Award for Literature, as well as two Drammies, Oregon's Drama award, for her three-act one-woman show, Country of Origin. Elmaz most recently performed Country of Origin at the Kennedy Center and has toured several countries with this play and two others: Ramadan Moon and 32 Mohammeds. Elmaz's work has been widely anthologized, most recently in The New Anthology of American Poetry, Vol. 3 and The Colors of Nature. Elmaz has been a Fulbright Senior Fellow to Egypt, taught for the Palestine Writing Workshop and a resident at the El Gouna Writing Residency on the Red Sea. Elmaz is one of the founders of the Voices of Our Nations Arts Foundation, (VONA/Voices), now in its 15th year providing workshops for writers of color. She is also a creative writing professor at Mills College.
Previous Events at D.G.Wills Books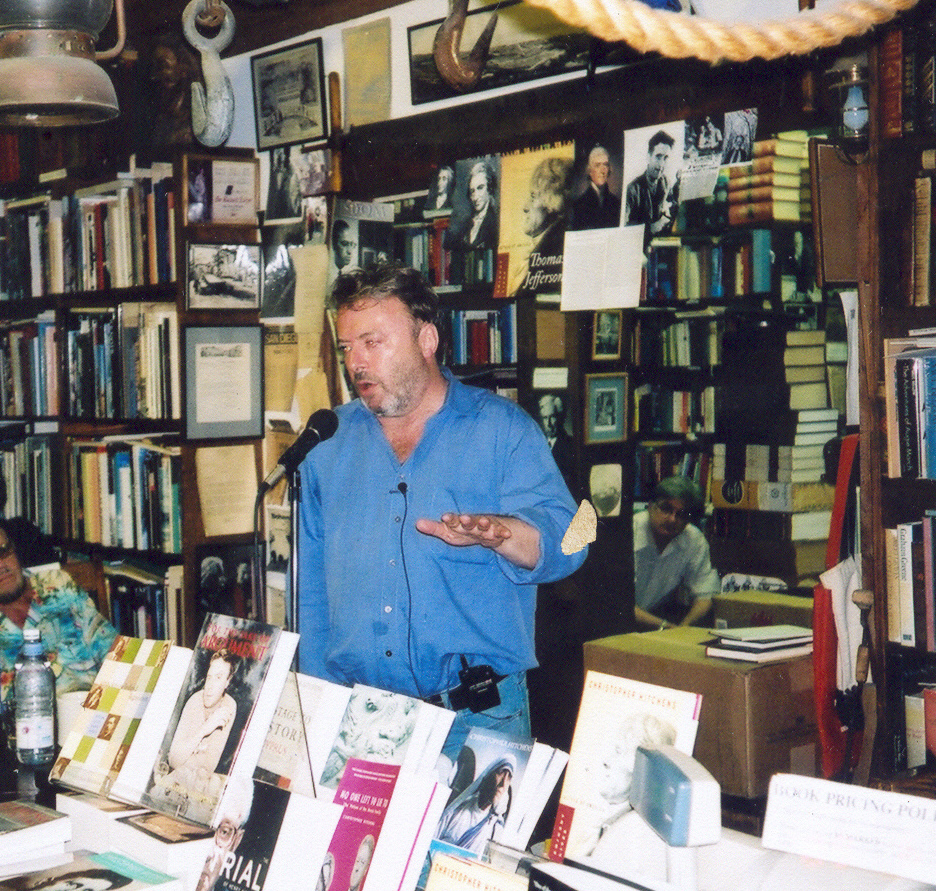 Christopher Hitchens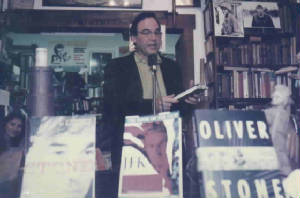 Director Oliver Stone
Historian and Churchill biographer Sir Martin Gilbert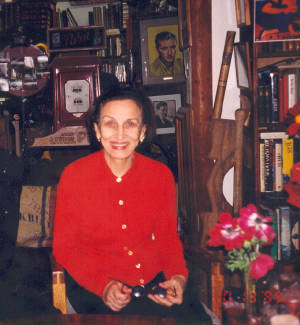 Francoise Gilot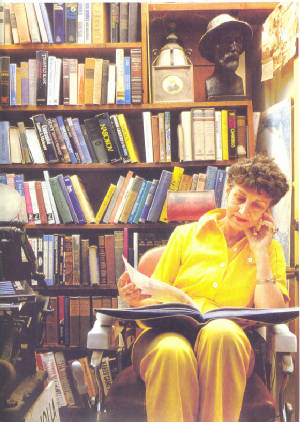 Vogue magazine photo of Francoise Gilot at the original store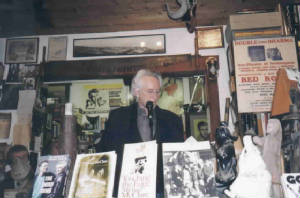 Michael McClure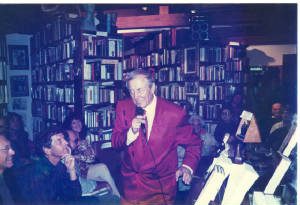 Yevgeny Yevtushenko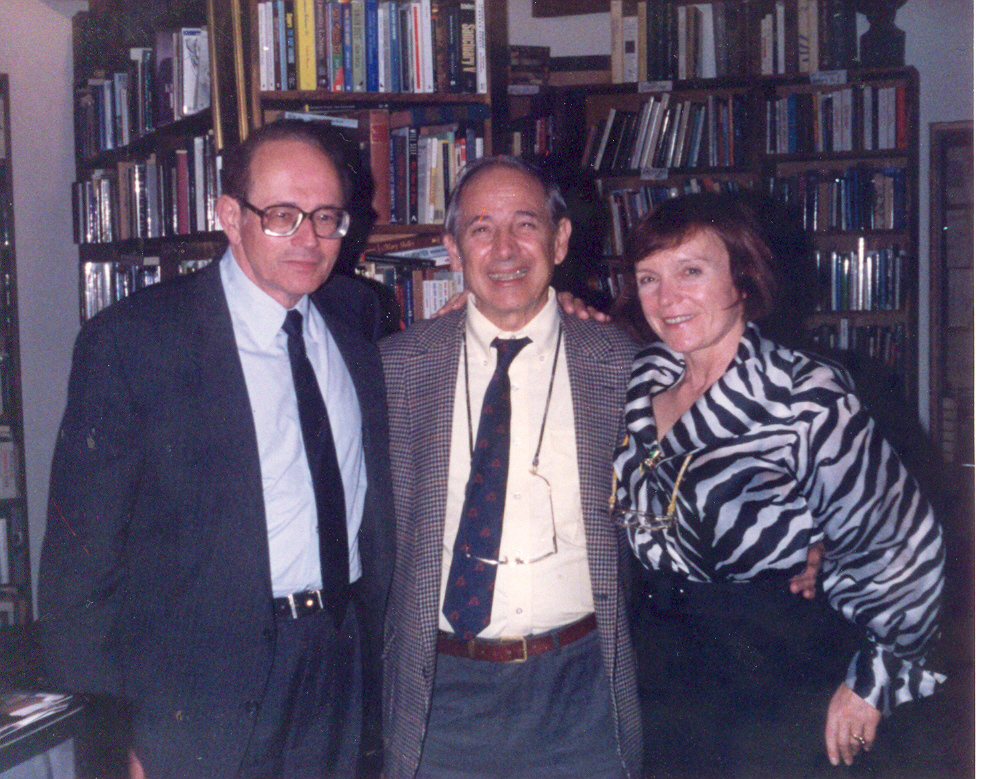 Nobel Laureate Gerald Edelman, Director of the Neurosciences Institute, with U.C. Berkeley philosopher John Searle with Mrs. Searle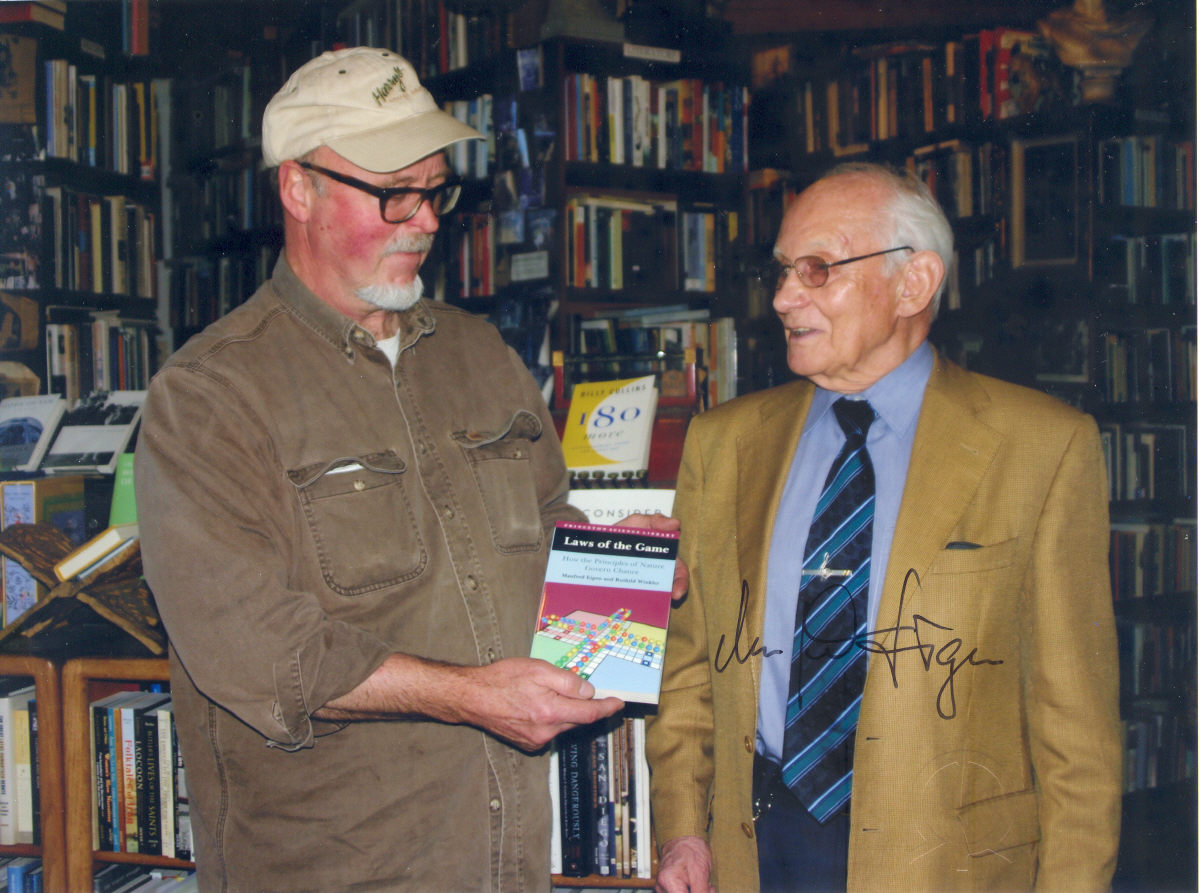 Nobel Laureate Manfred Eigen
Quincy Troupe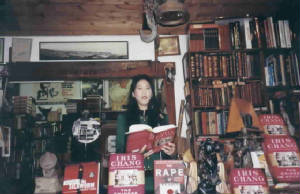 Iris Chang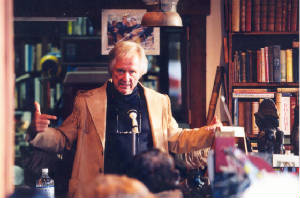 Gerry Spence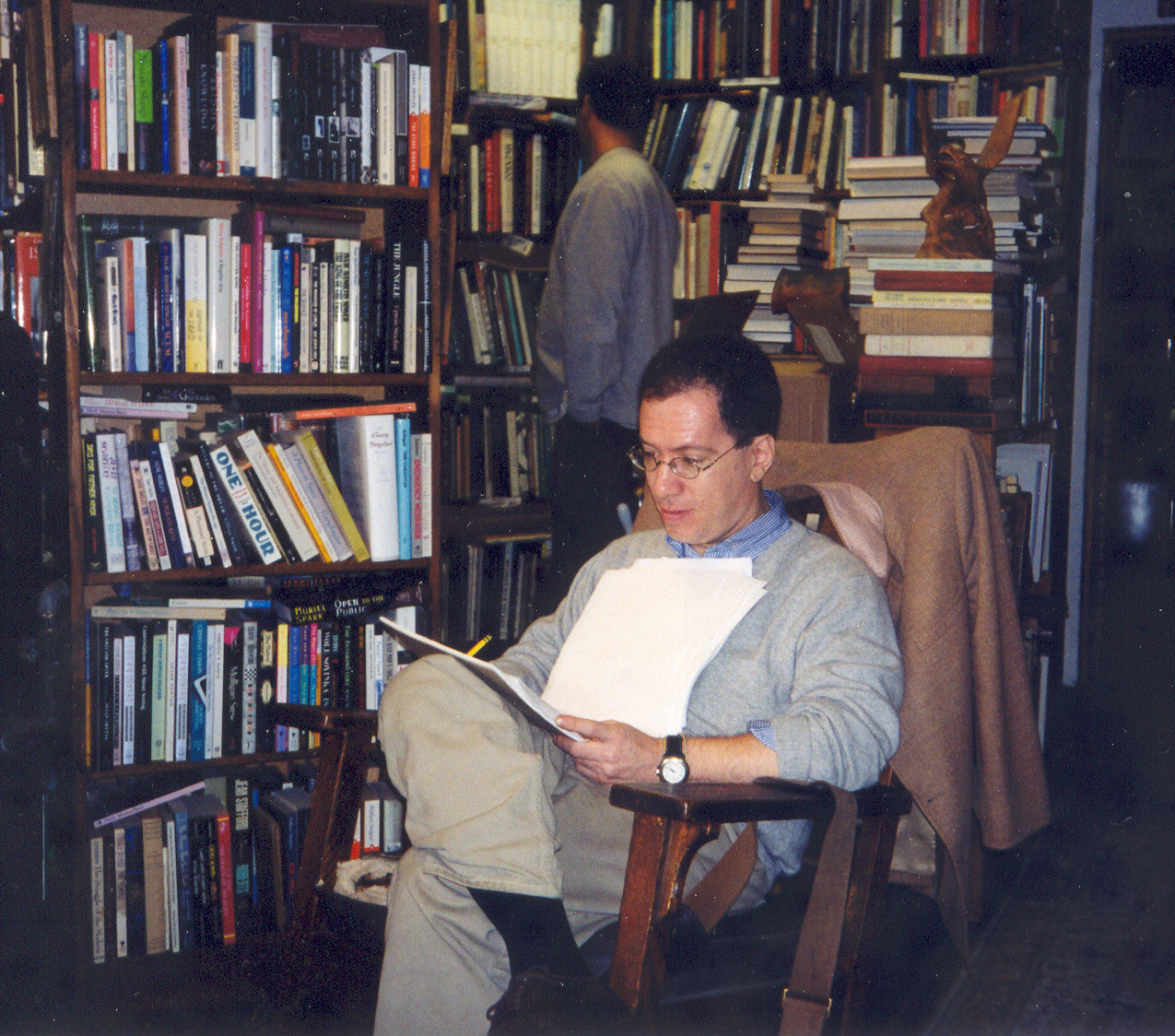 Noted editor Robert Weil, editing a Patricia Highsmith manuscript for W.W. Norton & Co.